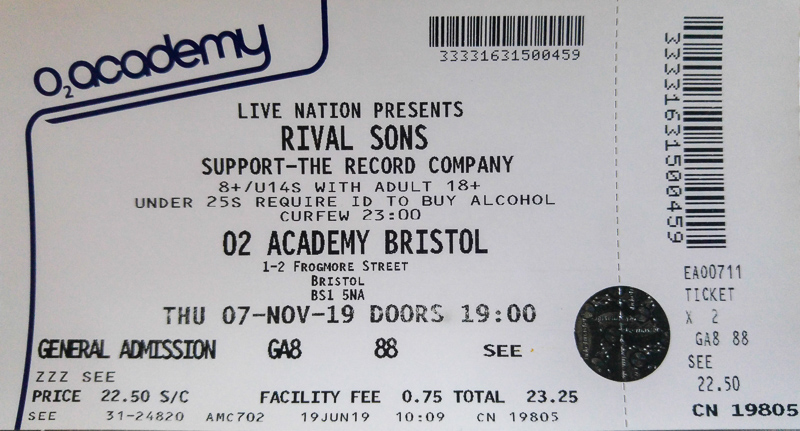 This one was a bit of a punt – I'd never (knowingly) heard any of their music, but a good friend of mine rates them so when I saw that they were doing a small handful of shows in the UK, but including Bristol, I thought I'd give it a go.
This hasn't always worked out well – Gaslight Anthem being the worst (the nearest I've ever come to leaving a gig early).
But it has worked on other occasions – Richard Hawley being the prime example.
Happily, this was one of the good ones – actually they were bloody superb.
From what little I knew of them, I was expecting a slightly dirty sound, US Southern rock-style. But no, a much lighter, crisper sound.
The singer is excellent – he looks like Jim Morrison, and sounded great.
The guitarist was one of the best I've seen – a great sound, great riffs along the Jimmy Page lines, although not actually a huge amount of solos. And he played a double-neck guitar – I've never seen one played before, and he actually used two different ones during the show!
Not much to say about the bassist and drummer, although we did get a drum solo – I'm not actually sure I've been to a gig with one of those before either.
There's not much else I can say really, given that I have no idea what any of the songs were (see the setlist link under the ticket above), but I don't recall any clunkers. I would most definitely go and see them again.
The photos aren't anything special – there wasn't a particularly outstanding light show. I was actually stood next to the lighting desk, which was quite interesting – there's a lot of manual input.