After listening to Crowded House's Woodface earlier, we got through a bit of vinyl on Saturday night, so here's brief rundown of what we played.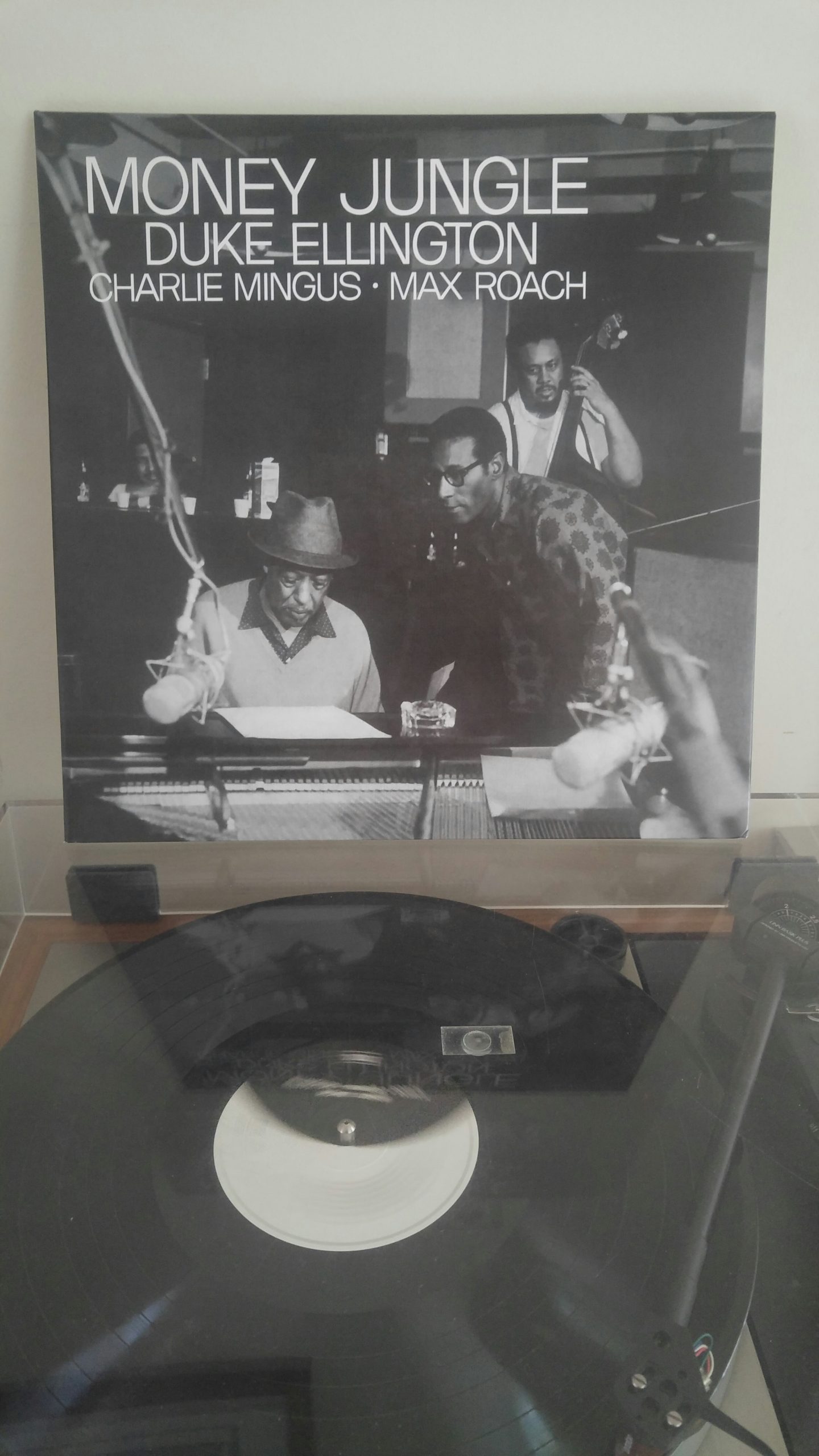 I think this came from an Amazon.fr purchase a year or two back, and I assume we've listened to it before but can't say for sure. Nice early 60s jazz from a pretty impressive trio. Not a great fan of some of the bass, but overall very nice.
---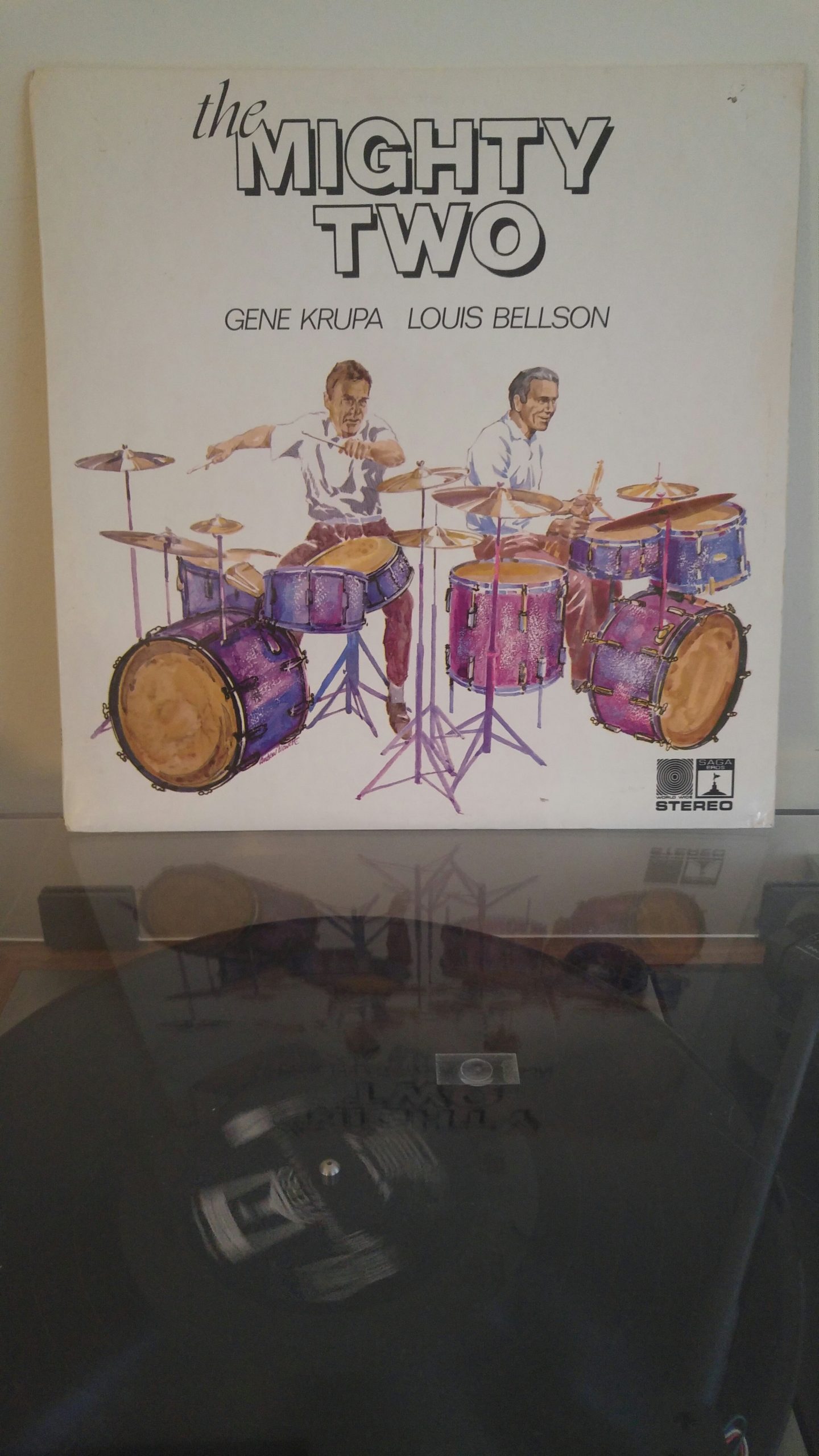 I picked this up from my regular charity shop last year as I'd heard of Gene Krupa and I liked the idea of two drummers.
It's a cracking album, with drums to the fore as you'd expect! More big band than jazz, but more swinging – I'm not generally a fan of big band stuff as I find the insistence on punctuating everything with a blast of sharp trumpet a bit wearing, but this is good.
---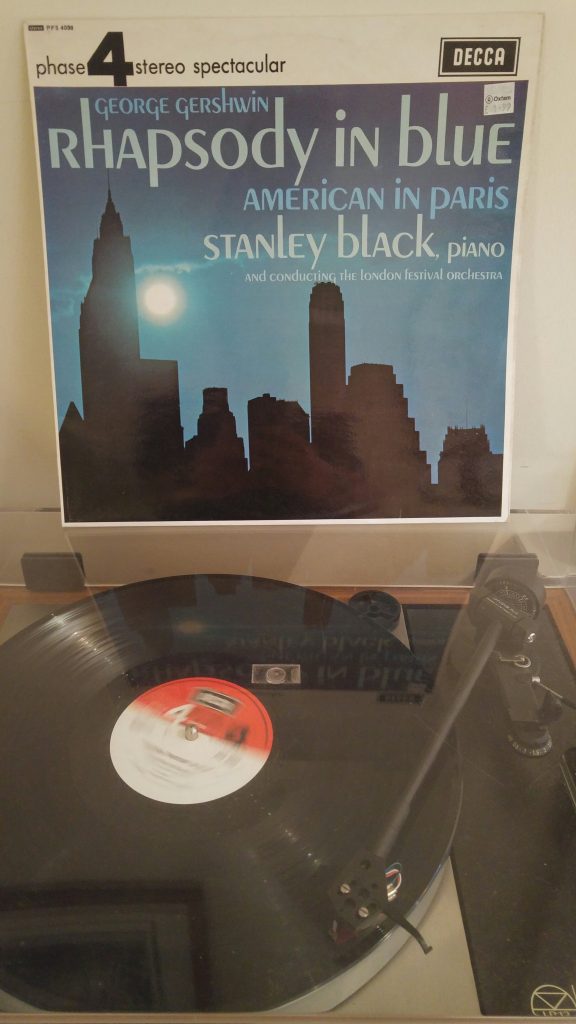 An old favourite – we play this one quite a bit. It was one of my first charity shop vinyl buys, and I did well with it.
There's not much to say about Rhapsody in Blue – it's a classic for a reason. We don't tens to bother with American in Paris.
---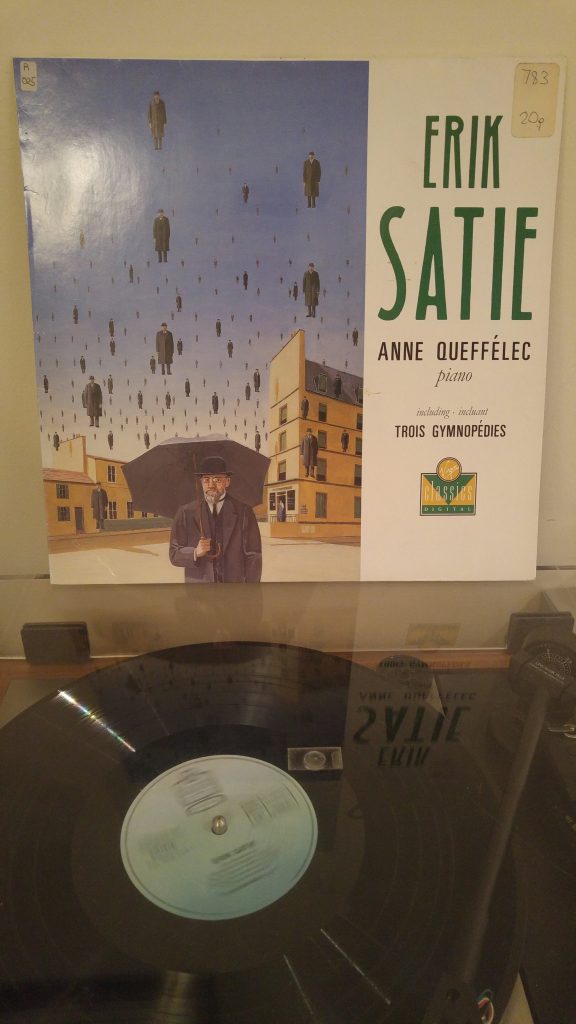 This is another favourite – it came from my dad's collection and we play it a lot.
It's very gentle, and rather lovely. It's also long – almost 30 mins per side, presumably because it's so quiet.
SWMBO looked into it and apparently this is one of the definitive recordings – we've heard others and they're not as good, although some of that might be because we heard and got to know this one first.
---
I forgot to take a photo of the next one – Mussorgsky's Night on the Bare Mountain. This is another that was my dad's, and is one of the first classical records we listened to.
A lively *big* orchestral sound, a hefty piece – although I'm always puzzled by the bit that sounds like something from a circus when the clowns come on, as it sounds a bit out of place.
Unusually we also put on the other side, which is Pictures From an Exhibition. We've not heard that one so much but did enjoy it – I think I tend to steer clear of it having heard the Emerson, Lake & Palmer version.
---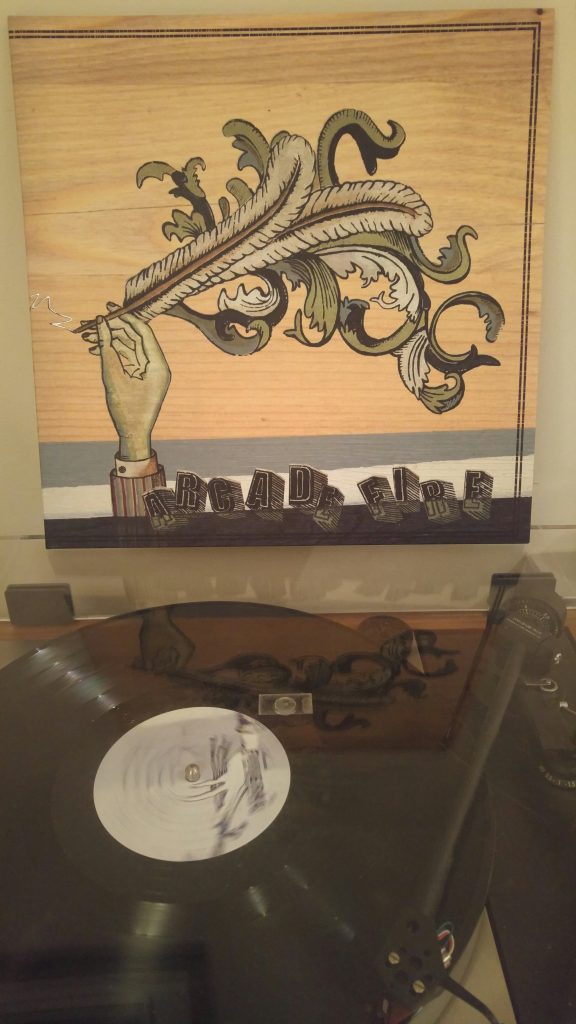 Moving on to some rock now.
This is the other album I bought from HMV recently – Arcade Fire's debut album Funeral, which I absolutely love and was very happy to be able to get on vinyl.
It's all good but there are 4 stone cold classics on there – I love Neighbourhood #1 (Tunnels), Neighbourhood #3 (Power Out), Wake Up & Rebellion (Lies).
Very highly recommended.
---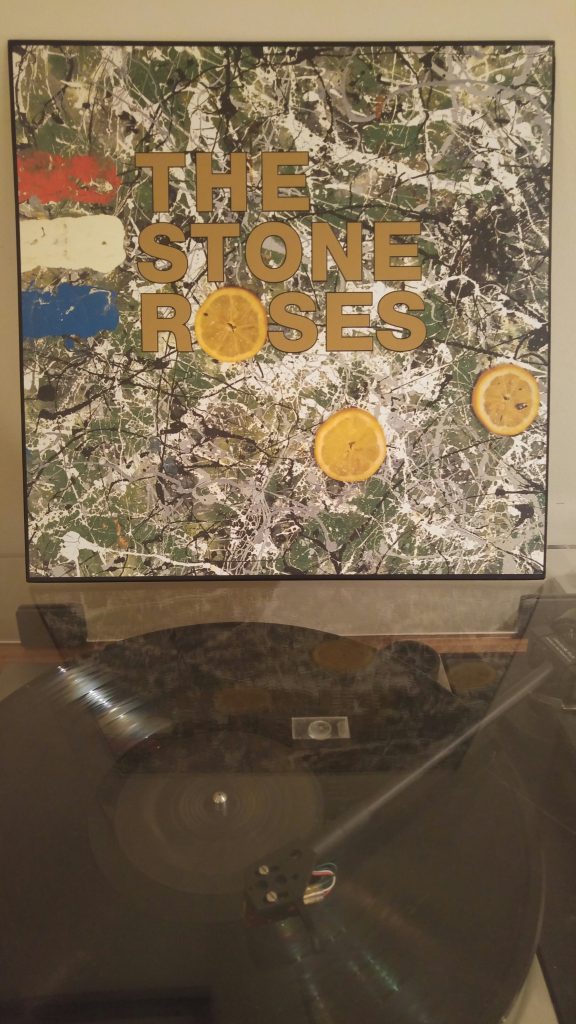 At this point we went onto individual tracks.
First up, I Am The Resurrection by The Stone Roses.
Just bloody amazing. We may have turned the volume up at this point – fortunately we have never had any complaints from the neighbours.
---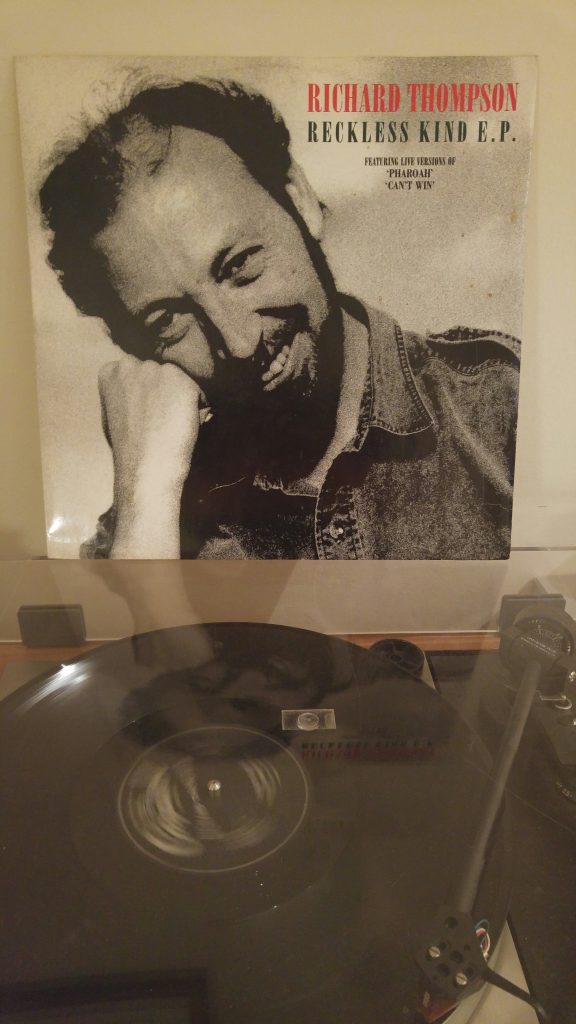 Less well known here – the marvellous Richard Thompson. But not the A-side – we're here for the B-side which is a live version of Can't Win (I think it's from Amnesia – that era anyway). This is from the late 80s, and is one of the 12″ singles I kept hold of when I got rid of most of my vinyl.
It's absolutely stonking – it's a good song (interesting bleak lyrics) but has an astounding, and long, guitar solo.
I saw him around this time at Spinney Hill Hall in Northampton (a theatre that was part of Northampton School For Girls), which is an odd venue for a rock gig. Great gig, but boy did they crank up the volume towards the end. I particularly remember this song, plus the ringing ears.
The band sound great too – Clive Gregson & Christine Collister, and Gerry Conway on drums.
RT is a fantastic guitarist – I saw him at Colston Hall quite a few years ago and was on the front row – close enough to see that he was playing rhythm *and* lead at the same time.
---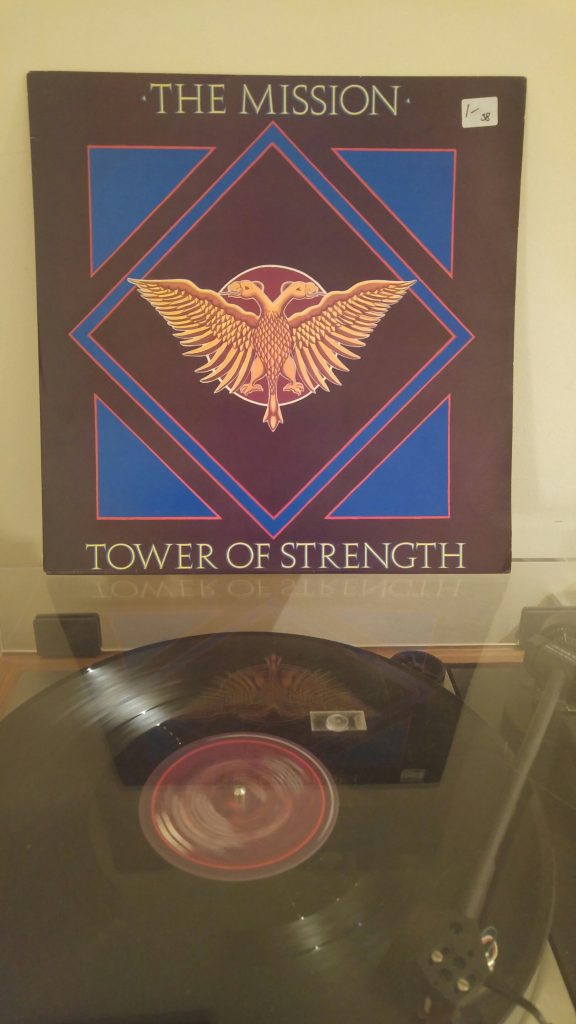 A bit more from the 80s – The Mission's Tower of Strength, 12″ version. I had this at the time, but it went with most of my vinyl in the 90s and I re-bought it when I saw it in a charity shop a couple of years ago.
It's a big long brooding track, great bass, proper goth guitars and a fab drum line.
---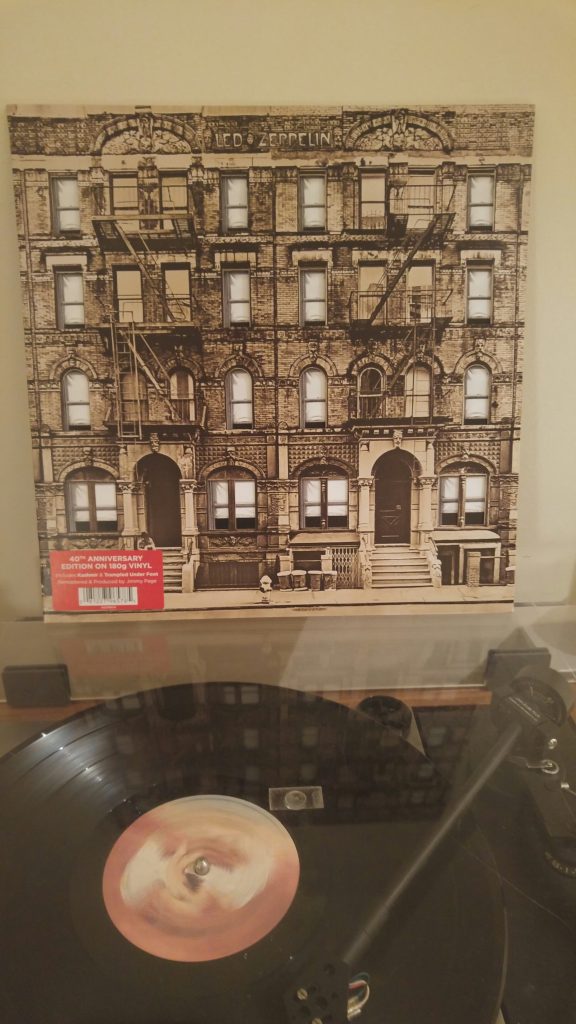 Just the one track from Led Zeppelin's House of the Holy.
Kashmir. Of course it's bloody Kashmir. It needs no introduction.
SWMBO wanted to listen to Celebration Day but unfortunately that's on Led Zep 3, which I don't have on vinyl.
---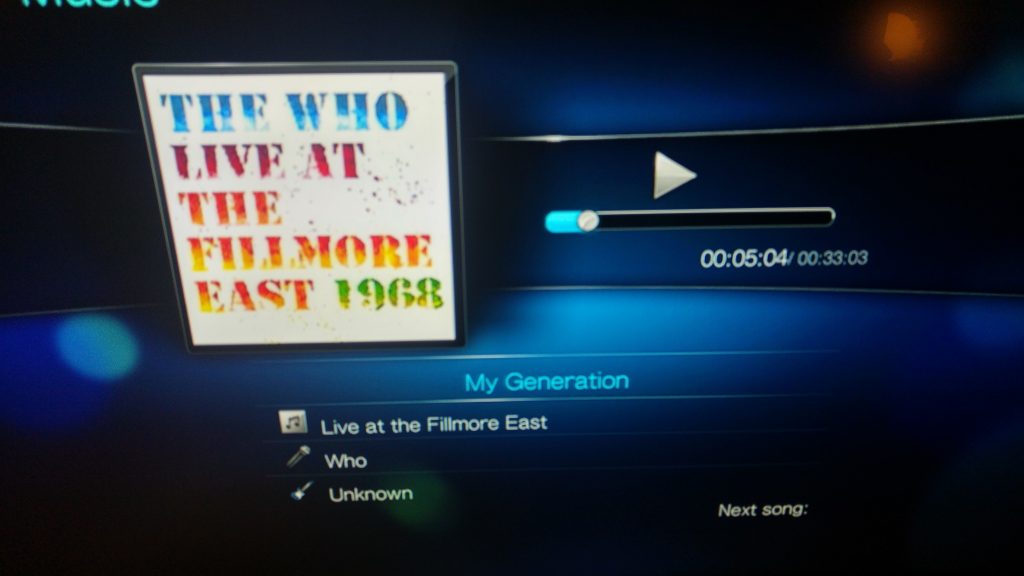 Controversial here – a spot of digital, two Who tracks.
First up was The Ox, which is an amazing instrumental – pounding bass and drums, Townsend on guitar, plus crucially Nicky Hopkins on piano. Find it and listen to it – it's tremendous.
Then we had My Generation from Live at the Fillmore East 1968. The second disc of this only has 1 track – but it's this 30+ minute jam.
It's raw, it's loud, it's a fantastic racket.
---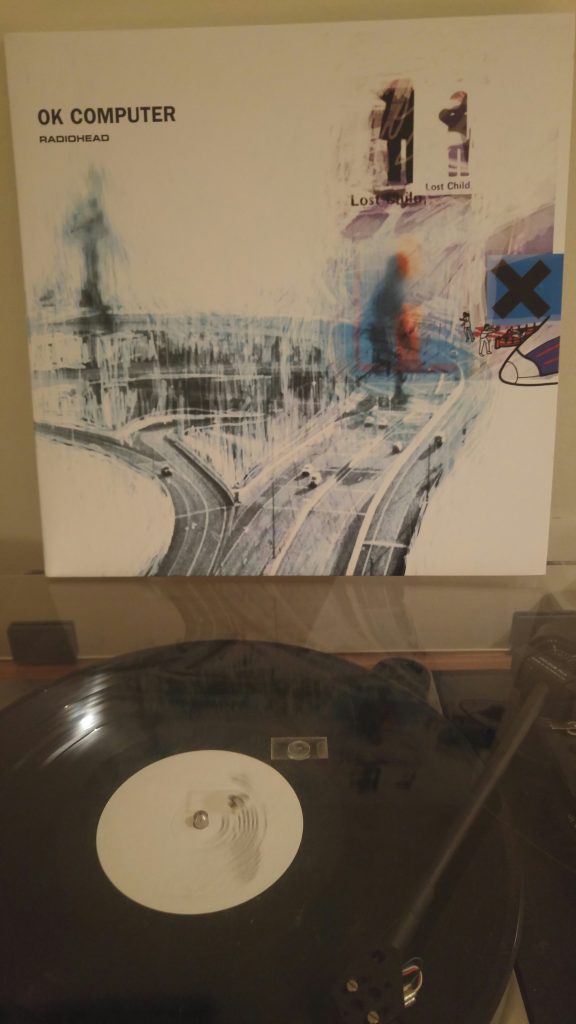 OK Computer by Radiohead, so it's obviously Paranoid Android.
Epic, it's bloody epic. Just extraordinary.
---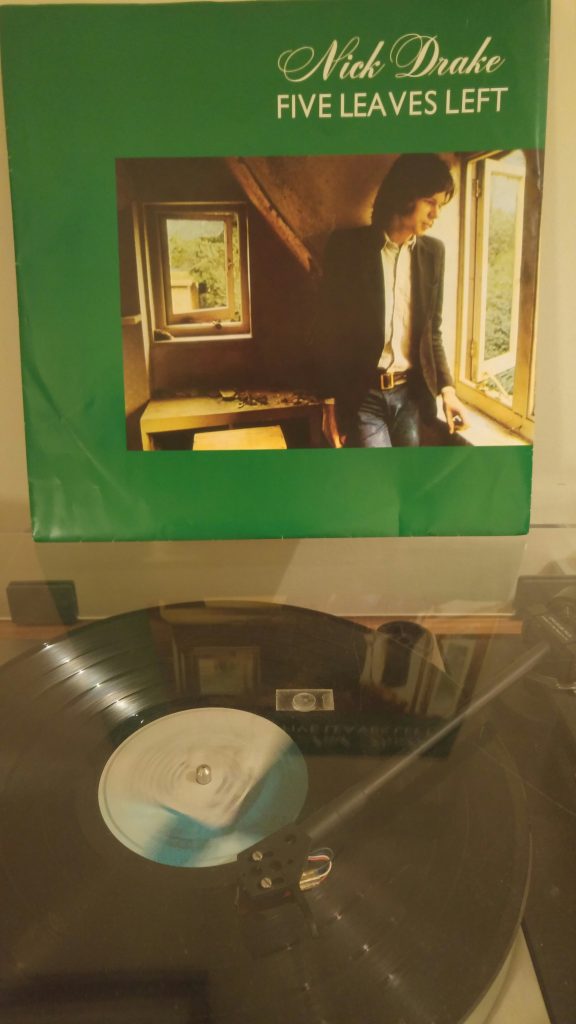 A tradition is that whenever I've been picking the records, I have to put on some Nick Drake for SWMBO. To be fair, she doesn't usually mind what I out on – as long as it's not Springsteen – but this is a nice way to finish the evening.
The one song that always gets played is Saturday Sun from Five Leaves Left. Even if we play the whole album, we play Saturday Sun and then the album. It's a lovely, beautiful song with a gentle warm sound – mainly due to the vibraphone.
---
And that was it for the night. At this point I realised that I had drunk far too much and decided it was time to retire for the night. The spirits seemed like such a good idea at the time, but Sunday's hangover reminded me that it really wasn't.